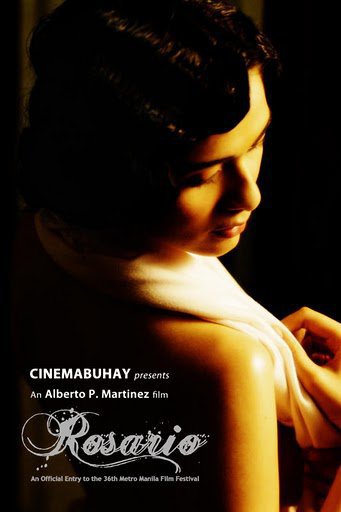 The film tells the saga of Rosario, a young and liberated Filipina in the 1920s who has just arrived from New York, and is spending her vacation in their hacienda.
There, she meets and falls in love with Vicente, an older man who manages the tobacco plantation owned by Rosario's family. When Rosario's father finds out about his daughter's scandalous affair, he sends Rosario to a convent.
She escapes, and elopes with Vicente to Manila where they raise a family. But Rosario's life of married bliss slowly crumbles when Vicente becomes ill with tuberculosis, and she is lured to committing adultery. Temptation and scandal still hound Rosario as she continues to defy the moral restrictions of her time.
Based on a true story and set in one of the most colorful periods in Philippine history, ROSARIO is destined to be a modern masterpiece in Philippine filmmaking. It is a monumental yet intimate portraitof a woman's emancipation and the sometimes painful consequencesof following one's desires.
CAST
Jennylyn Mercado--- Rosario Herrera- Rosario is a paragon of beauty and grace. She is a sophisticated, intelligent woman who dares to think liberally. The movie recounts her life from the age of 18 to 32. She is fond of reading poetry and is adept at playing the piano. A woman ahead of her time, Rosario is a passionate lady who lives her life according to her heart's desires.
Yul Servo-Vicente Perez- The 35 year old Vicente is the administrator of Tabacalera Herrera. He exudes a cultured and well-mannered aura. He loves to read poetry. He is practical, responsible, romantic and tender. Vicente is considered a true gentleman of his era.
Dennis Trillo--Alberto Fernandez- Alberto is an auto mechanic with a lower-class upbringing. Being the typical playboy that he is, he is fond of dating many women. He loves to smoke, drink and drive cars. He is sensual yet down-to-earth; rogue yet attractive.
Sid Lucero-Carding Arenas- The idealistic Carding is kindhearted but a bit naïve. Already at the age of 20, he works as a clerk in a newspaper publication and dreams of becoming a writer.
Isabel Oli-- Carmen Santos- Carmen is Rosario's cousin and best friend. The typical provinciana with very simple dreams transforms into an urbanite once she reaches Manila. She is a hopeless romantic and is passionate about her man. She secretly envies Rosario.
Dolphy--Jesus Herrera-Fernandez- At the age of 82, Jesus, the son of Rosario and Alberto narrates the film's story.
Phillip Salvador--Don Enrique Herrera is Rosario's father. Born of Portuguese-Spanish descent, he is the wealthy owner of Tabacalera Herrera, a successful tobacco company in Isabela in the 1920s. Like any traditional father, he is conservative and a bit stern. He loves his daughter but tends to overprotect her.
Eula Valdez-- Dona Adela Herrera is Rosario's loving mother. She is a subservient wife to Don Enrique Herrera. Although conservative, she is a bit lenient towards Rosario.
Ricky Davao--Señor Miguel- Miguel is already in his late 50's. He is Carding's uncle. Behind his fatherly figure and kind demeanor is a lustful man who tries to take advantage of Rosario's weakness.
bxAv110
bxAv110
bxAv110